The Emma Skipp Band are a collective of 8 very talented (some say good looking) professional musicians.  They provide extremely high energy entertainment specialising in weddings, parties and the corporate market.
Emma physically gets out amongst the crowd and encourages them onto the dance floor, which can significantly lift the burden off the wedding couple after their first dance, and for our corporate clients helps to get the boss away from the bar – often resulting in a dance off!
Disclaimer: Some will cherish these memories; others may feel the shame the following morning at breakfast!
Every member of the band sings! Whilst Emma is the lead vocalist you will hear Sophie and Emma Wing sing lead in many of the songs whilst they swap their harmonies around.  Pete and Andy also sing lead on several songs giving the band total versatility and a visually rich dynamic too.
All the musicians are multi instrumentalists, which you will see during our performances.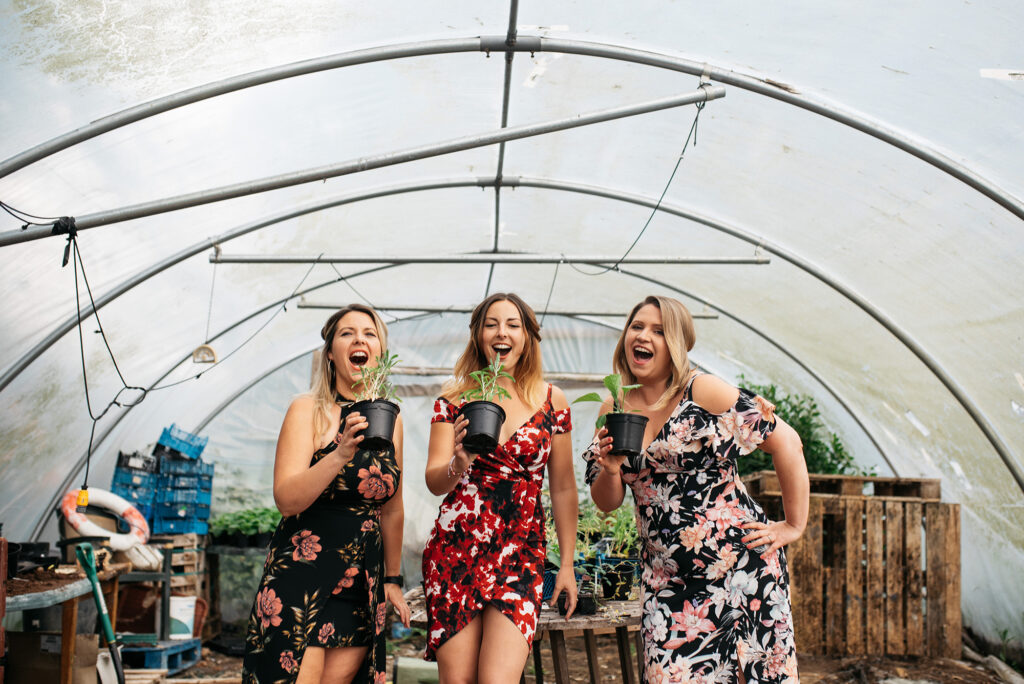 We operate several different bands within the main band to accommodate different genres, events and budgets. For example you may choose to go for the whole package with the full 8 piece party band and our DJ, or you may just need a 4 piece live lounge set.
The songs can essentially be the same but the different instruments and line up used will give the overall presentation a different quality.
Sophie, Dan and Andy provide an wonderful lively trio of vocals, keys and acoustic guitar.  Or for something a little more demure you may want to go for a vocals and keys/guitar duo, ideal for the signing of the register, walking down the aisle or drinks reception before the band and DJ entertain your guests all night!
There are several threads which unite this wonderful band.  Most of the musicians have played together for over ten years. Several studied music at the same music college. But most interestingly almost every member of the band has, at one time or another, either played with or supported the wonderful Ocean Colour Scene. Those of you who may be OCS fans will be familiar with the incredible singer PP Arnold who Andy also currently plays bass for.  What tenuous links, eh?

Emma Skipp
"A one woman Gospel Choir." – Jo Whiley BBC Radio 1 2009
Whilst performing with The Enemy on their top 20 single 'No Time For Tears' the song entered the UK singles chart at #16 and became the band's fastest selling single. Singing for the Enemy, Emma supported Kasabian and Oasis at Wembley Stadium, as well as stadiums across the whole of the UK.
Emma has also featured in TV appearances on The Jonathan Ross Show, The Album Chart Show, and Radio 1's Live Lounge and recorded at Maida Vale and Abbey Road Studios.
In 2009 Emma was asked to sing on Ocean Colour Scene's album 'Saturday'.
Emma eventually graduated (after taking time off for two tours!) from Wolverhampton University with a degree in Philosophy and Creative Writing. Prior to that in 2007 Emma won Jasper Carrott's competition on local Birmingham radio Heart FM to perform on his 'Rock With Laughter' show at the NEC.
Emma formed party band Never Mind The Jukebox in 2009, a successful Birmingham based covers band who enjoyed almost ten years of performances together. In 2013 Emma and band member Pete Butler worked overseas in a residency in Sorrento, Italy for travel company TUI.
In 2015 Emma took on a musical theatre role as the lead in 'Ella Yella' performed at Birmingham's REP Theatre.

Sophie Skipp
Having studied Musical Theatre at Stratford Upon Avon College, Sophie started to do backing vocals for the Emma Skipp Band from the age of 17!
Through the years Sophie has worked in various productions in venues such as the NIA, Symphony Hall and Birmingham Town Hall.
Outside of the UK she had a residency in Phuket, Thailand where she played a host of local bars for two years.
"Singing with the Emma Skipp band is just a total buzz. There's nothing like showing people a great time at their wedding/birthday etc, and enjoying every part of it yourself too."
Sophie is also a qualified Personal Trainer and Zumba instructor, which comes in very useful for the band– although the boys are a bit reluctant about getting their moves on!!!

Emma Wing
A graduate from Coventry University with a degree in Music, Emma has an incredible ear for music and is responsible for getting most of the bands harmonies so tight!
"I've been singing in bands and choirs from the age of 15, and have played at some fab venues, such as The Royal Albert Hall, Birmingham Town Hall and the NEC.
I first met Emma Skipp and Pete Butler on the Stratford College Pop Music course but it wasn't until I finished my degree that I started doing backing vocals for The Emma Skipp Band. Except for the amazing rhythm section, my favourite thing about the band are the lush vocal harmonies!" 

Andy Flynn
Andy's compositions and music scores can be found on the BBC and the British Film Institute.
"I've had the privilege to work with some incredible musicians such as Steve Cradock, PP Arnold and The Moons, performing in front of hundreds of thousands over the years."
Andy brings such colour to the Emma Skipp Band providing his incredible electric guitar playing skill and amazing rock'n'roll vocals too.
Peter 'Danish' Nielson
Started DJ'ing in the early nineties in his native Denmark. There he held a couple of residences in various nightclubs and bars in "Jomfru Ane Gade" a street in Denmark famous for its nightlife.
"I started working with Emma in 2008 DJ'ing in between sets and provide the music after the band have finished, keeping our guests dancing until their evening has ended, and into the early hours – by prior arrangement!! I've got an extensive music library and I'm happy to play songs on request."